Change is everywhere. It is certainly not the first time you hear it, nor will it be the last. To be ready for whatever should be coming, organizations might adapt their way of working toward an Agile-based organization model.
It is huge ambition, but what should organizations do next, once they consider it implemented?
Agile Transformations are difficult stories. Organizations invest a lot of money into it and managers spend a lot of time to implement the new Governance.
It's only after weeks of learning, training, working, and planning that operational teams finally feel the outcomes.
But… what's next once the program is done?
Is there even something next?
Can we get more benefits from this gigantic investment?
Can we still improve a few things here and there?
Typical observation after Agile Transformation occurred:
It mainly focused on organizational Governance. It is indeed important but shouldn't be the only thing addressed.
At many levels (department, unit, teams), people feel more unified and aware of each other's issues
It brought in many positive outcomes! Teams that were looking for a change or whose work fits the change perform now better!
But it also brings in mixed results. Other teams struggle to adapt, perform worse than before and feel left behind
Most importantly, behavioral change is not guaranteed across teams when companies change their companies.
---
The 2 layers of organizations
Customer value creation that happens inside a company has 2 sides:
The governance side
In our case, organization moved from a traditional way of working into an agile framework. Governance is great because it's about what we know and what we can do right now. It brings efficiency (something that managers love) and stability (something that employees love).
The capabilities side
The other side is that sometimes, thing happen in another way that the one envisioned by governance. Employees do things as needed, depending on the urgency and their own skills. It however still has dynamics that organization can use at their advantage.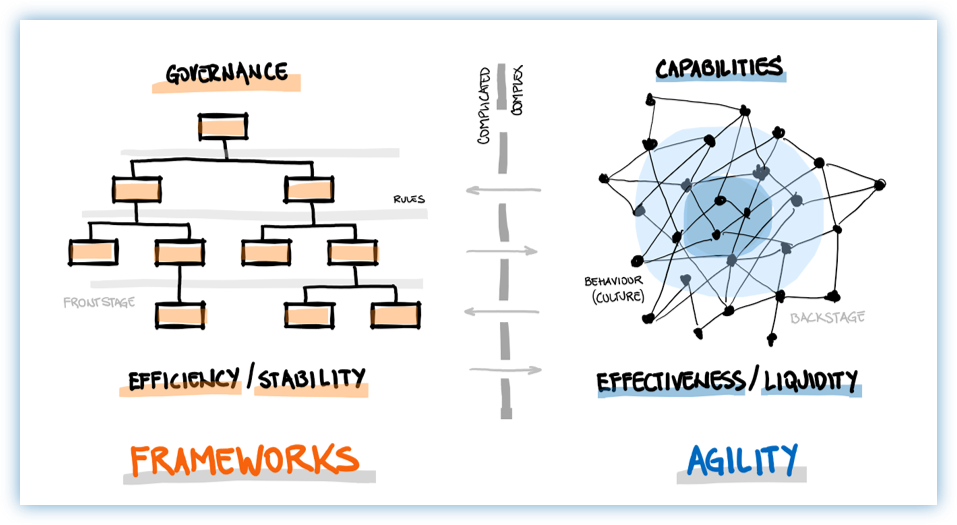 ---
What's next after Agile Transformation?
Marcel Cerveny leads Steep's Agile Operating Model practice. In a true intrapreneurarial fashion, he developed it after noticing the struggles some companies encounter once they switched to Agile-based organization models.
The main issue? Once the switch in process governance occurred, change of behaviors do not magically follow. In some cases, project delivery might even suffer from it! Marcel noticed that Agile framework implementation projects often focus on setting rules for processes but forget to implement constraints with clear goals & guidelines.
What is the main difference between these two?
Rules define the limits of can be done or not, whereas constraints are all about driving teams' behaviors toward a clear goal!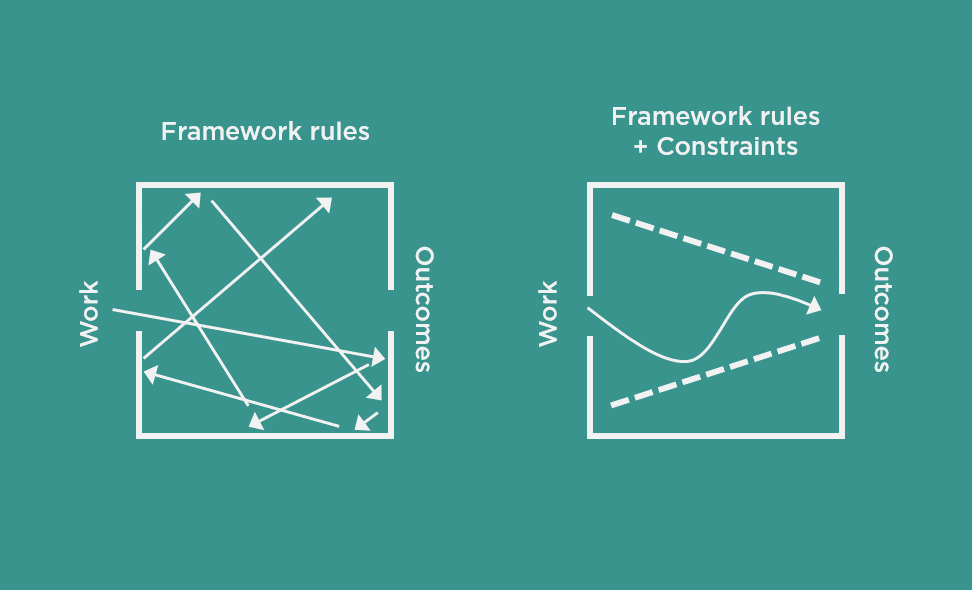 ---
Defining constraints doubled the output for one of our clients!
As an agile coach, Marcel helps organizations with a solid process governance to co-design the constraints that will boost their team's efficiency. Once teams use these constraints for a while, new behaviors naturally emerge.
Challenge:
Before one of his missions at a Telco client, each team there took as much work as possible and sort of planned it from there. The result? At the end of the year, they only achieved 1/3 of their objectives.
Approach
After participating in experiential workshops with Marcel, they co-defined sets of constraints regarding workload management and clear collaboration guidelines.
Result:
Guess what? The number of stories delivered doubled in a month!