We are a multi-brand, multi-country community, who believes the strategic capabilities of groups, communities and organizations shine the brightest when strategy gets out of the board room.
We make everyone benefit from (and apply) strategic & innovation concepts, tools & methods!
Within the Community, we democratize access to Strategy as Innovation (as opposed to Strategy as Analysis), so that any consultant at SteepConsult and in our ecosystem can :
exploit information,
organize an effective decision-making process,
get tough stakeholders in motion,
and foresee potential obstacles and opportunities ahead.
---
What is Strategy as Innovation?
The best strategy work is not done while defending PowerPoints with 200+ slides to C-level executives' meetings or showing how the numbers in the new Excel model predict big bucks down the road.
Rather, strategic narratives benefit from everybody participating in it. Everyone from the board room to the lowest operational level gains from applying innovative thinking in their daily activities. Since organizations are built out of individuals networked together, it also benefits the organization as a whole to unlock its collective intelligence.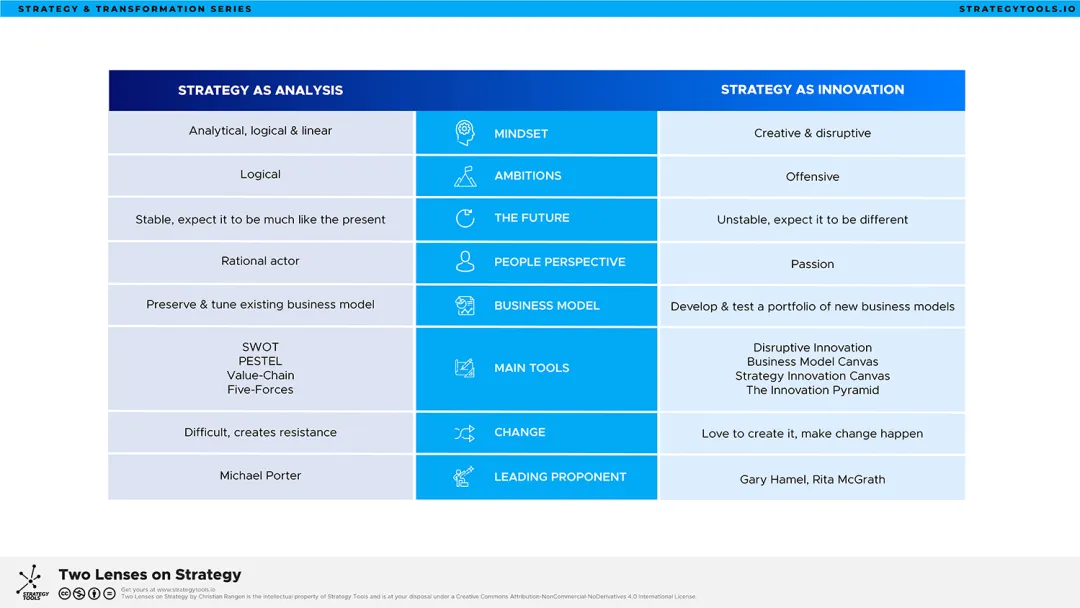 ---
How do we make the magic happen?
Knowledge sharing!
It's the foundation of every communitiers at SteepConsult. On a regular basis, we share our personal knowledge and also create safe spaces for anyone to ask questions and get counselling regarding their mission.
We learn from and train each other on how you could frame the strategic narrative and ask questions that will make your stakeholders raise their eyebrows with delight.
To serve best both our active community participants and surrounding stakeholders, we translated this vision into two tracks — vertical and horizontal.
In our vertical path, we have the following three goals:
sharpen our expertise in Innovation Strategy via knowledge sharing & trainings
build content to share what we have learned
qualify in- and outbound business opportunities
In our horizontal path, we endeavour to do the following three things:
Educate other consultants via thematized workshop sessions
Collaborate within our consulting ecosystem on larger-scale projects
Experiment with new ways of working and improving each other
Intense & fun workshops!
We like to use our community sessions as safety experiment nets in which we throw each other from an airplane (metaphorically speaking, of course). What got us known internally was actually a series of monthly workshops based on real cases!
During these workshops, we gave attendees a fancy context full of strategy problematics, like a rising start-up which finds itself at a decision crossroad or a company concerned to be left behind by rising meta-trends. Sometimes we even got the chance to co-organize with other communities (e.g. the Change Community) on topics with a common interest!
In the matter of an hour and a half, we strive to do the following three things:
Decipher the hype and evaluate if it is a fad or part of a larger meta-trend with scenario matrixes,
Lay together the cornerstone of the strategies they would put forward using collaborative digital canvases,
Pitch the business model(s) they would develop and how they would go about implementing it.
What is it like from the inside?
Just watch Filip's summary speech after a twenty min workshop session on the strategy dilemma: "how to transform energy conglomerates into future-proof organizations that work towards a future-proof planet?"!
---
Is that all folks?
Of course not! Spreading knowledge — and passion — about Strategy & Innovation in- and outside our ecosystem is a lovely mission, but there's even more on the agenda!
Training cohorts
We follow training on methodologies and frameworks we like to use in the community, at SteepConsult and at client's side, like StrategyTools' Build a Transformational Company!
Lunch & Learn
We organize Lunch & Learn sessions: small lunch strategy sparring sessions open to anyone, especially clients who are eager to talk!
Innovation Bootcamp
We iterate on building an Innovation Bootcamp Solution to test and improve internally and then propose it as a proper solution to clients!
Publishing our insights
We gather forces to put our experience, passion and insights on paper! You could learn in our latest publications: