This cookies policy is made by Positive Thinking Company, data controller of Steepconsult, for Steepconsult website (https://www.steepconsult.com/).
Steep consult is a brand of Positive Thinking Company S.A which is established in Belgium under the following details : Positive Thinking Company S.A. incorporated under Belgian law and registered under the company number 0895.492.518 with its registered offices in Chaussée de Charleroi, 112, 1060 Brussels, Belgium.
1) What is a cookie ?
A cookie is a small electronic text file that is placed on the user (hereinafter referred to "you" or "your")'s device when visiting websites. It is created by software on the website server but stored on the computer hard drive of the user. During a subsequent visit to the website, the contents of the cookie can be retrieved by the website's server. Cookies are widely used to serve websites or to ensure their more efficient operation, as well as to provide information to the owners of these websites.
2) Why a cookie policy ?
This cookies policy gives you a list of all the cookies that Steepconsult hereinafter referred as "Steep", "we", "us" or "our") might use or deposit on your device (computer, smartphone, touchscreen tablet or other devices with an internet connection) cookies, as defined hereabove.
Steep values your privacy. Therefore this cookies policy aims to explain you which cookie do we use, for what purpose and how you can to manage them.
Cookies are used to give you access to our website, enhance your site navigation, measure the audience on our website, improve their performance, collect data about your interactions on our website, give you access to multimedia content and allow you to share content from our website to your social networks.
3) Which cookies do we use ?
Cookies may contain your personal data. Indeed, Cookies generated by the website or application enable services to be personalized according to the areas of interest of each user, who can be identified by means of these cookies. The subsections hereunder aim to explain you which cookies we use on our website, and for what purpose.
a. Categories of cookies, purposes and retention periods
Strictly necessary cookies
These cookies are strictly necessary for our website to operate correctly. They are usually submitted in actions made by you, such as a request to access our website or your cookie settings. These cookies do not require your consent and will be automatically deposit on your electronic terminal, because they are essential to give you access to Steepconsult website. They also allow us to remember and respect the choices you have set (such as the cookie settings you have accepted or refused).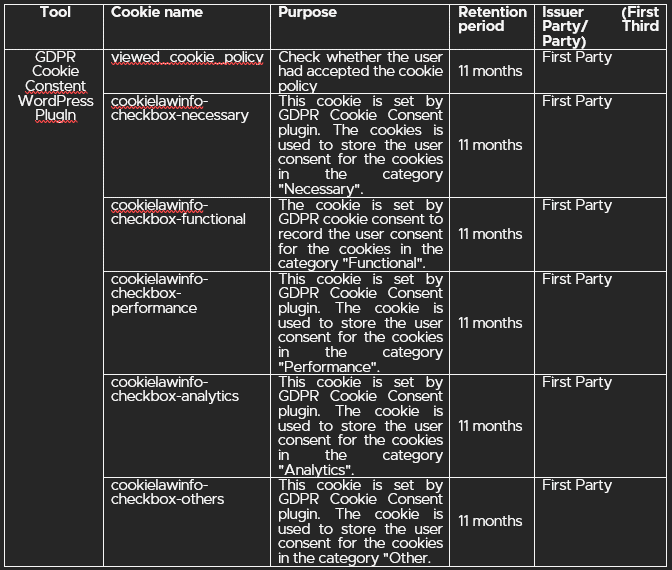 Performance cookies
These cookies give us information about how many users have reached our website. The information provided by these cookies are aggregated and anonymous, meaning we can not identify you directly or indirectly. The performance cookies help us to understand which pages are the most popular and which are the least. These cookies allow us to count the traffic sources in order for us to improve the performance and the user experience of our website.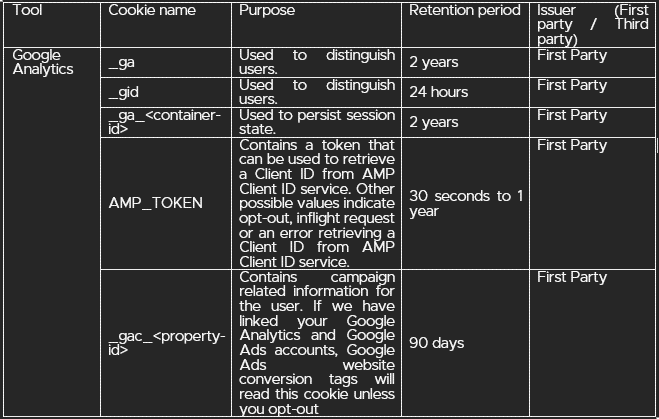 Targeted and Advertising cookies
These cookies are used to provide you with contents and improve our marketing activities. They may be used by other companies (see the "Third Party list" section below) to build a profile of your interest and show you relevant adverts on other sites.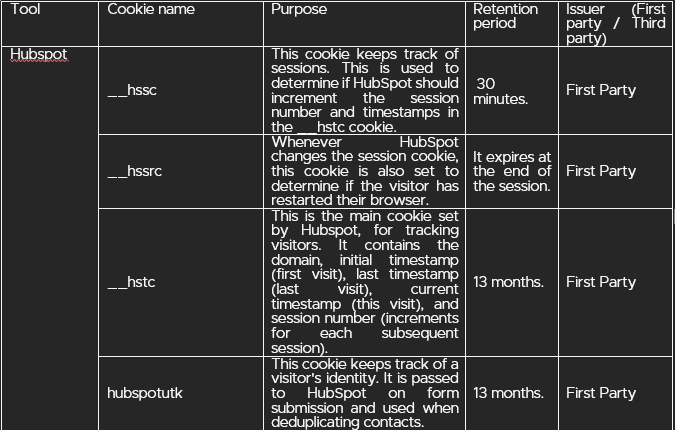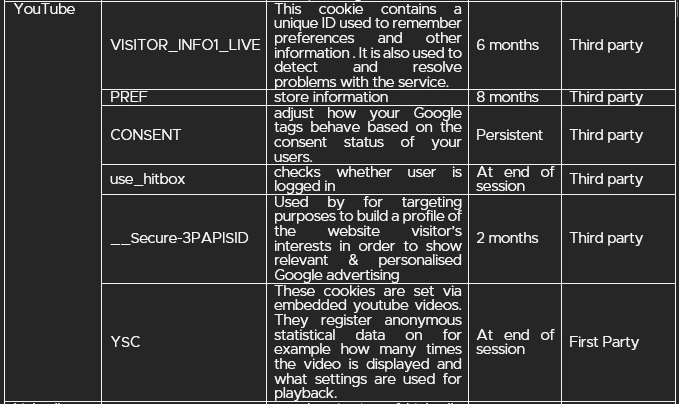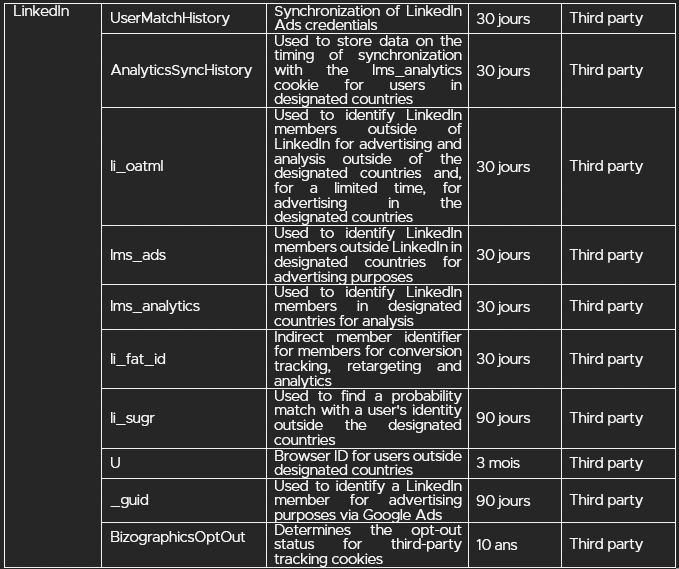 Third party list
Some features on our website may require services offered by third-party sites. These third-party sites will deposit cookies that will allow you to visualize on our site content hosted by these third-parties, and also to share our contents. The said third-party can collect your browsing data and use the data collected via their cookies for purposes they have determined in accordance with their privacy policy.
You will find below the names of the third-parties from which we use cookies and a link to their respective privacy policy.
LinkedIn
LinkedIn Insight Tag cookie enables us to analyze the success of our campaigns within the LinkedIn platform or to determine target groups for them based on LinkedIn members' interactions with our website.
LinkedIn privacy policy is available on LinkedIn's privacy policy.
YouTube
YouTube is used on our website show, share and store multimedia content. These cookies allow YouTube to track the usage of its services
YouTube privacy policy is available on Google's privacy policy.
c) Legal basis for the deposit of cookies
In accordance with article 5 §3 of the e-Privacy Directive (directive n° 2002/58/CE), strictly necessary cookies do not require your consent and will be deposited when you use our website. Other cookies are based on your consent, as required by article 6 of the General Data Protection Regulation (UE) 2016/679 (hereinafter referred to "GDPR"). Therefore, those cookies will only be deposited on your device if you allow us to do so.
4) How can you disable/accept cookies we use ?
When you are connected to our website, a cookie notice banner will appear. You can select to accept all cookies (by clicking on "I accept all") or refuse all cookies (by clicking on "I reject all"). If you want to accept or refuse some cookies, you can make your choices by clicking on the link "Cookies settings", which will give you access to the cookies panel control.
You can at any time decide to activate or disable some or all cookies during your site navigation on our website. You will find an access to the cookies panel control by clicking on the link "Manage your cookies preferences" at the footer of each website.
5) How can you delete cookies through your browser settings ?
Cookies are used by web browsers to personalize their users experience on Internet. However, you can decide to modify your browser settings to personalize its management of cookies (accept or reject all cookies, be notified when a cookie is issued, to check its validity, etc.) To find out more about cookies settings, how they are installed and how to delete them, visit www.aboutcookies.org
For information about how to manage cookies on your web browser, you will need to consult your device manual and the browser manual about cookie settings. We kindly inform you that disabling some or all cookies from your web browser settings may prevent you from accessing certain content or website.
Find out how to manage cookies on most popular web browsers :
6) If I have a question or if I want to exercise my rights under data privacy regulations
This cookies policy supports your rights as a data subject. These rights are described in our Privacy Policy. If you have a question or want to exercise your right, you can:
If you are unhappy with the way in which your question or claim has been processed by us, you have the possibility to lodge a complaint to the relevant supervisory authority